Community health centers: Transforming healthcare for the next 50 years
Since first coming on the scene 50 years ago, community health centers have been perhaps the most underappreciated and overlooked operators in U.S. healthcare. On this golden anniversary of the opening of the first center, safety net providers are increasingly looking like one linchpin in a complex new healthcare economy.
In this emerging landscape of accountable care, with its emphasis on population health and preventive care, healthcare services are increasingly being delivered not only through private physicians and hospitals, but also in collaboration with health centers and other community-based providers. As this infographic by Avanza Healthcare Strategies demonstrates, community health centers, are uniquely positioned to partner with hospitals searching for new approaches to improve population health outcomes and lower costs. A new article penned by Avanza's Maria Serafine and Joan Dentler and published in Becker's Hospital Review digs deeper into the wisdom of community healthcare collaborations.
For an independent perspective on re-engineering or relocating your healthcare services, contact Avanza at [email protected] or 512.479.6700.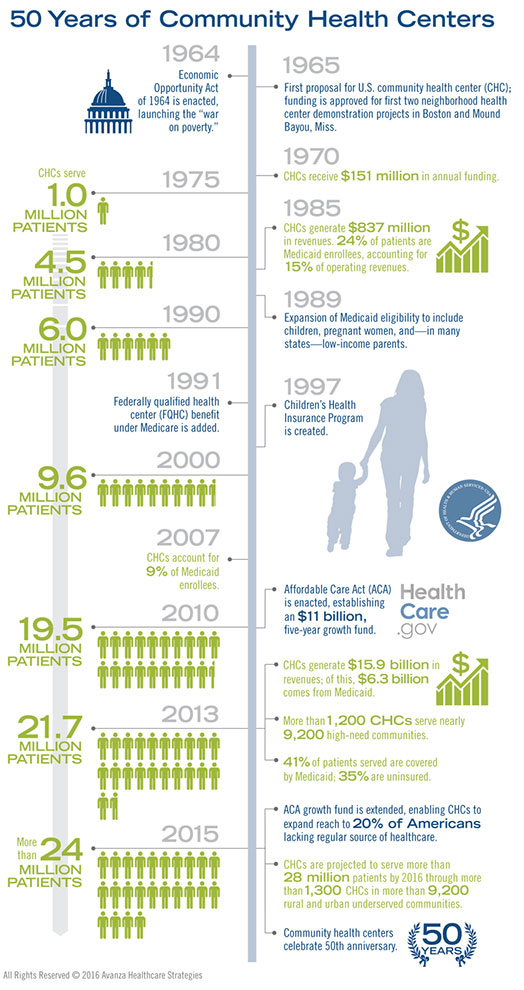 We're In This Together
With hands-on experience in hospital administration, surgery centers and community health centers, Avanza Healthcare Strategies provides strategic guidance focusing on outpatient services and population health strategies. We are uniquely qualified to help you strengthen your bottom line, turn healthcare's changing regulatory environment into strategic opportunities, and meet expectations for increased collaboration, better health outcomes and stricter cost containment.
Sources: Centers for Disease Control and Prevention, National Association of Community Health Centers, U.S. Department of Health and Human Services Health Resources and Services Administration, Centers for Medicare and Medicaid Services, Health Affairs, California Department of Community Services and Development, Ravenswood Family Health Center